Scholarships
Make a Scholarship Gift
Establishing a named scholarship can be a meaningful way to recognize or pay tribute to someone special in your life. Consider tailoring the criteria of the scholarship to reflect a special interest or geographic preference. (For example, a scholarship for a first-generation college student or a student from Woodstock.)
Scholarship Types
If you wish to establish a scholarship that will be given to one or more students each year in perpetuity, we encourage you to consider establishing an endowed scholarship where the full amount of the gift is invested and only a specified percentage of the market value of the investment is awarded each year to students for scholarships. The original gift, and a portion of the income, continues to be invested and grow to ensure that, as college costs increase, the same number of scholarships can be made available to assist students. In order to provide at least $500 a year to student scholarship recipients, start an endowed scholarship with a gift of $10,000 or more.
Alternatively, you can make gifts to the Foundation to establish named scholarships to be awarded to students until the fund is depleted. For example, a $1,500 gift may be made in memory of someone with the instruction to award $500 to a student each fall for the next three years. Income earned on these "consumable" scholarships is applied back to the general scholarship fund.
Awarding Scholarships
MCC's Financial Aid office manages the advertisement and selection of recipients for Foundation scholarships. Donors who wish to be involved in the selection may sit in with scholarship selection committee when applications are reviewed. You are always given the opportunity to meet and congratulate the student who receives your scholarship.
Scholarship donations to the Friends of MCC Foundation provide opportunities for students to transform themselves, their families, their futures and their communities. We invite you to invest in the future of an MCC student.
To learn more about establishing a scholarship, contact the Foundation Office.
Past Scholarship Recipients
Wickersham Family Horticulture Scholarship Recipient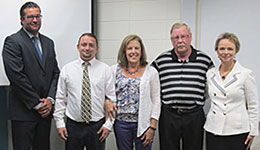 The Friends of McHenry County College Foundation has awarded the Wickersham Family Horticulture Scholarship (formerly named the Raymond Ned Wickersham Scholarship) for fall semester at MCC to Lonnie Owsley of McHenry. The scholarship is in memory of Raymond Ned and Marilyn Wickersham who both had a lifelong love of gardening. Owsley is pursuing an Associate in Applied Science degree in horticulture with a specialty in greenhouses. He hopes to open his own business in the horticulture industry. The Wickersham Family Scholarship is awarded in the fall and spring semesters. Each scholarship is awarded to an MCC horticulture student who is enrolled in a minimum of six credit hours. To qualify for this scholarship, the student must provide a letter of recommendation from an instructor and have a cumulative grade point average of at least 3.0. Pictured are, from left, Matt Lemke, Foundation Board president; Owsley, Nancy Wickersham, Donald Wickersham, donors and MCC president Vicky Smith, Ed.D.
First Midwest Bank Scholarship Recipient
Luis Hernandez, of Crystal Lake, received the $500 First Midwest Bank Scholarship for the 2013 Fall Semester. He is a sophomore at MCC with intentions of graduating in May 2014 and transferring to a four-year school to pursue a degree in education. Hernandez is also a member of the MCC men's soccer team and maintained a 4.0 GPA this past semester. Pictured are, from left, Matt Lemke, president, Friends of MCC Foundation Board of Directors; MCC President Vicky Smith, Ed.D.; Luis Hernandez, First Midwest Bank scholarship recipient and Steve Rankins, Friends of MCC Foundation Board of Directors member and First Midwest Bank vice president.