Scholarships
Establishing a named scholarship can be a meaningful way to recognize or pay tribute to someone special in your life. Consider tailoring the criteria of the scholarship to reflect a special interest or geographic preference. (For example, a scholarship for a first-generation college student or a student from Woodstock.)
Endowments
If you wish to establish a scholarship that will be given to one or more students each year in perpetuity, we encourage you to consider establishing an endowed scholarship. An endowed scholarship fund is invested and a portion of the yearly market returns on the investment are awarded to students for scholarships. To establish an endowed scholarship fund a $10,000 balance is required to be invested for 1 year prior to awarding students scholarships. The original gift and any additional funding to the endowed fund are held in a permanently restricted fund and continue to be invested per the Friends of MCC Foundation Investment Policy.
Annuals
Annual scholarships allow you to make gifts to the Foundation to establish named scholarships to be awarded to students until the fund is depleted. For example, a $1,500 gift may be made in memory of someone with the instruction to award $500 to a student each fall for the next three years.
The Friends of McHenry County College Foundation office manages the advertisement and selection of recipients for Foundation scholarships. Donors who wish to be involved in the selection may sit in with scholarship selection committee when applications are reviewed. You are always given the opportunity to meet and congratulate the student who receives your scholarship.
Scholarship donations to the Friends of McHenry County College Foundation provide opportunities for students to transform themselves, their families, their futures and their communities. We invite you to invest in the future of an MCC student.
To learn more about establishing a scholarship, contact the Foundation Office at (815) 455-8721 or foundation@mchenry.edu.
---
Current Scholarship Recipients
Brandon and Sarah May Scholarship Recipients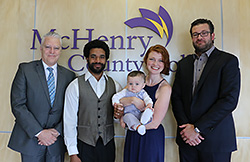 Brandon and Sarah May attended the Friends of MCC Foundation Board of Directors meeting in April and shared their journey from California to Illinois, gratitude for being selected scholarship recipient, the difference it made on the lives and the help it provided in reaching their goals at MCC and the extra work and dedication towards their young family!
Sarah was awarded the ICCSF (Illinois Community College System Foundation) Scholarship for the 2016 Spring Semester. This scholarship is awarded to a resident of Illinois who is studying to prepare for a career in Healthcare. Brandon is the recipient of the College Opportunity Scholarship in the fall of 2015 and the John Lillie Memorial Scholarship in the spring 2016 semester. Both scholarships are given to a first generation student. Brandon and Sarah are both working on receiving an Associates in Science degree at MCC and plan to transfer to a 4 year institution to earn a bachelor's degree in nursing.
---
Past Scholarship Recipients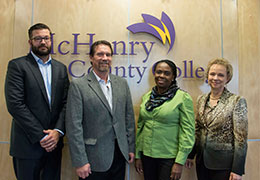 "Nursing school is intense, with this scholarship, I don't have to worry about money for school. The stress of tuition has been erased." – Carol Etienne-John
Freedom Isn't Free Scholarship Donor and Recipient
Mark Handeland is the proud recipient of two veteran's scholarship for fall 2015. Mark was awarded Joe's Wish Operation Re-Boot Scholarship and the Freedom Isn't Free scholarship. This is Mr. Handeland's second year at MCC and he will be graduating December 2016 with Associates in Science degree and hopes to transfer to University of Chicago in fall 2016 to pursue becoming a doctor. Mr. Handeland served in the Navy from May 2008 to May 2014, he served in two deployments. In his free time Mark enjoys volunteering at the Huntley Library and the Woodstock Food Pantry
---
Sage Scholarship Donor and Recipient Luncheon
Mr. Vince Foglia. Sr., Vince Foglia and Mr. Richard Naponelli visited MCC on Dec. 19 for a luncheon to meet the recipients of the Sage Products College Opportunity Scholarship and the Sage Products Nursing Scholarship. Mr. Vince Foglia. Sr., Vince Foglia and Mr. Richard Naponelli also toured the MCC Nursing labs for a demonstration of the SimMan the newest version of a state-of-the-art teaching tool that arrived recently to the MCC nursing lab, thanks to a recent generous donation from the Foglia Family Foundation to the Friends of MCC Foundation.
Forge Ahead Scholarship Donor and Recipient Luncheon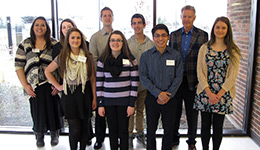 On Monday, December 1, 2014, the Friends of MCC Foundation hosted a special luncheon for Mr. Mike Klingenberg, main donor of the Forge Ahead Scholarship, and eight of the Forge Ahead Scholarship recipients. The luncheon was hosted in the Scot Room at MCC with lunch and refreshments served. The event was attended by Dr. Vicky Smith, president of MCC, Dr. Tony Miksa, vice president of Academic and Student Affairs and Mr. Matthew Lemke, president of the Friends of MCC Foundation Board of Directors. The Forge Ahead Scholarship provides each recipient $1,500 towards tuition for the semester the scholarship was awarded. Pictured are, front row, left to right, Nicole Schweber, Allison Steiger, Andy Hernandez, Alena Hansen and back row, Kayla Welu, Jacqueline Flieth, Robert DiCicco, Travis Schreiber and Mike Klingenberg.
Wickersham Family Horticulture Scholarship Recipient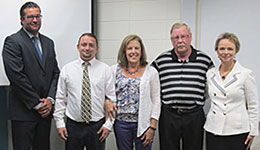 The Friends of McHenry County College Foundation has awarded the Wickersham Family Horticulture Scholarship (formerly named the Raymond Ned Wickersham Scholarship) for fall semester at MCC to Lonnie Owsley of McHenry. The scholarship is in memory of Raymond Ned and Marilyn Wickersham who both had a lifelong love of gardening. Owsley is pursuing an Associate in Applied Science degree in horticulture with a specialty in greenhouses. He hopes to open his own business in the horticulture industry. The Wickersham Family Scholarship is awarded in the fall and spring semesters. Each scholarship is awarded to an MCC horticulture student who is enrolled in a minimum of six credit hours. To qualify for this scholarship, the student must provide a letter of recommendation from an instructor and have a cumulative grade point average of at least 3.0. Pictured are, from left, Matt Lemke, Foundation Board president; Owsley, Nancy Wickersham, Donald Wickersham, donors and MCC president Vicky Smith, Ed.D.
First Midwest Bank Scholarship Recipient
Luis Hernandez, of Crystal Lake, received the $500 First Midwest Bank Scholarship for the 2013 Fall Semester. He is a sophomore at MCC with intentions of graduating in May 2014 and transferring to a four-year school to pursue a degree in education. Hernandez is also a member of the MCC men's soccer team and maintained a 4.0 GPA this past semester. Pictured are, from left, Matt Lemke, president, Friends of MCC Foundation Board of Directors; MCC President Vicky Smith, Ed.D.; Luis Hernandez, First Midwest Bank scholarship recipient and Steve Rankins, Friends of MCC Foundation Board of Directors member and First Midwest Bank vice president.