Establishing a named scholarship can be a meaningful way to recognize or pay tribute to someone special in your life. Consider tailoring the criteria of the scholarship to reflect a special interest or geographic preference. (For example, a scholarship for a first-generation college student or a student from Woodstock.)
Endowments
If you wish to establish a scholarship that will be given to one or more students each year in perpetuity, we encourage you to consider establishing an endowed scholarship. An endowed scholarship fund is invested and a portion of the yearly market returns on the investment are awarded to students for scholarships. To establish an endowed scholarship fund a $10,000 balance is required to be invested for 1 year prior to awarding students scholarships. The original gift and any additional funding to the endowed fund are held in a permanently restricted fund and continue to be invested per the Friends of MCC Foundation Investment Policy.
Annuals
Annual scholarships allow you to make gifts to the Foundation to establish named scholarships to be awarded to students until the fund is depleted. For example, a $1,500 gift may be made in memory of someone with the instruction to award $500 to a student each fall for the next three years.
The Friends of McHenry County College Foundation office manages the advertisement and selection of recipients for Foundation scholarships. Donors who wish to be involved in the selection may sit in with scholarship selection committee when applications are reviewed. You are always given the opportunity to meet and congratulate the student who receives your scholarship.
Scholarship donations to the Friends of McHenry County College Foundation provide opportunities for students to transform themselves, their families, their futures and their communities. We invite you to invest in the future of an MCC student.
To learn more about establishing a scholarship, contact the Foundation Office at (815) 455-8721 or foundation@mchenry.edu.
A Big Thank You
Promise Williamsen Scholarship - established April 2017
Pictured left to right: Ms. Erika Kallman and Brian DiBona
Ms. Erika Kallman, the loving grandmother of former MCC student Promise Williamsen has generously agreed to fund two (2) $500 scholarships. Criteria includes a 2.5 grade point average, demonstrating a "good heart", an intention of pursuing additional training in the field of Automotive Technology, and an indication of financial need. This scholarship will be applied to tuition only, and will be available both in Fall and Spring. She is pictured with Brian DiBona, Executive Director of the Friends of MCC Foundation.
---
Current Scholarship Recipients
Shawnte Jones Scholarship Recipients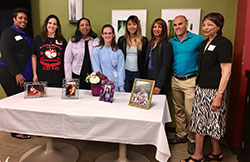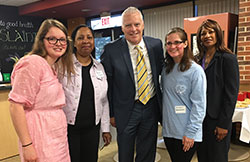 The Shawnte A. Jones Scholarship was created in 2016 at McHenry County College by the Jones, Hess and Moll families. Shawnte strongly believed in education and through her career was able to help countless students continue their educational endeavors. Andrea Bautista, Sarah Castle and Kendall Hendrixson are the first scholarship recipients and had the opportunity to meet Shawnte's family and friends.


Scholarship recipients with Shawnte's family
and friends
---
Amanda Fair Scholarship Recipients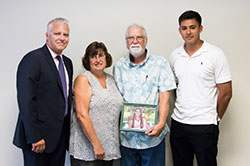 Pictured left to right: MCC President, Dr. Clinton Gabbard, Claire Fair, DeWayne Fair, Brandon Morales
In  Fall  2016,  the  Amanda  Fair  Memorial  Scholarship  was  awarded  to  Brandon  Morales  of  Island  Lake,  IL  and  Jordan  Thomas  of  Crystal  Lake,  IL (not pictured).  Brandon  is  a  two­year  starter  on  the  MCC  men's  soccer  team and  currently  holds  a  3.4  GPA  in  the  classroom.  After  receiving  his  Associate  in  Science  Degree  from  MCC,  Brandon  plans to  enroll  at  Northern  Illinois  University  to  pursue  a  bachelor's  degree  in  business.  
Jordan  is  going  into  her  sophomore  year  at  MCC  and  is  a  member  of  the  MCC  women's  softball  team.  She  starts  at  first  base  for  the  team  and  made  the  Dean's  List  in  2016  with  a  3.5  GPA.  She  is  attending  MCC  to  receive  her  associate's  degree  in  science  and  further  her  education  at  a  four-year  institution where  she  will  pursue  a  bachelor's degree  in  communications.
---
Brandon and Sarah May Scholarship Recipients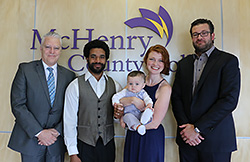 Brandon and Sarah May attended the Friends of MCC Foundation Board of Directors meeting in April and shared their journey from California to Illinois, gratitude for being selected scholarship recipient, the difference it made on the lives and the help it provided in reaching their goals at MCC and the extra work and dedication towards their young family!
Sarah was awarded the ICCSF (Illinois Community College System Foundation) Scholarship for the 2016 Spring Semester. This scholarship is awarded to a resident of Illinois who is studying to prepare for a career in Healthcare. Brandon is the recipient of the College Opportunity Scholarship in the fall of 2015 and the John Lillie Memorial Scholarship in the spring 2016 semester. Both scholarships are given to a first generation student. Brandon and Sarah are both working on receiving an Associates in Science degree at MCC and plan to transfer to a 4 year institution to earn a bachelor's degree in nursing.
---