Friends of MCC Foundation
Make a difference - join the Friends of MCC Foundation and the community in creating an extraordinary legacy of hope, learning and opportunity. Your involvement positively affects all members of our community and sets a precedent that will impact future generations for years to come.
---
Who benefits from your donations?
A BIG THANK YOU for contributing to my future!
Scholarship Recipients
2017 Spring Graduates!
---
To date, E2E has awarded $168,000 in scholarships to 21 female MCC students!
---
Enjoy an evening of fashion and fun to benefit Education to Empowerment!
Celebrate with us at the Starline Factory in Harvard!
John Adelmann, Jr. Memorial Scholarship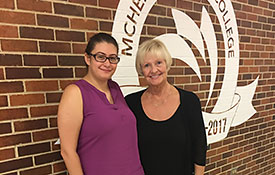 Jeanne Adelmann, donor of the John J. Adelmann, Jr. Memorial Scholarship, and Andrea Lejsner, scholarship recipient.
Listening for a Cause Fundraiser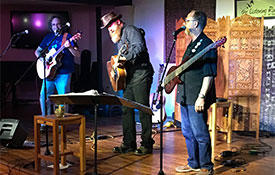 Thank you to everyone who came out to support the Foundation and helping to raise money for the Student Success Fund.
A word of thanks...
"This scholarship will help me continue my studies and hopefully obtain my goal of being a dentist. This gift will help me reach my goal."
- Brandt
"With this scholarship I will be studying psychology at MCC and hope to someday start my own practice as an adolescent clinical psychologist. "
- Kaitlyn
"Being awarded this scholarship is such a great help to me. I feel my goals are so close I can reach out with one hand and grab them. Thank you MCC Foundation!"
- Jacqueline
"The scholarship I received to MCC has meant everything. Thanks to this opportunity, I will be the first in my family to complete college."
- Alejandro
"My scholarship to MCC was a miracle. I have earned my GED and I'm well on my way to a college degree."
- Jacqueline
"My scholarship from MCC helped make it possible to change careers at 40 and pursue my lifelong interest in horticulture."
- Scott
"No one in my family has ever earned a college degree, but with my scholarship to MCC, I am on the way to being the first."
- Laura