Friends of MCC Foundation
Make a difference - join the Friends of MCC Foundation and the community in creating an extraordinary legacy of hope, learning and opportunity. Your involvement positively affects all members of our community and sets a precedent that will impact future generations for years to come.
---
Who benefits from your donations?
A BIG THANK YOU for contributing to my future!
Scholarship Recipients
2017 Spring Graduates!
---
To date, E2E has awarded $168,000 in scholarships to 21 female MCC students!
---
Thank you to our generous 50th-anniversary gala sponsors for your support.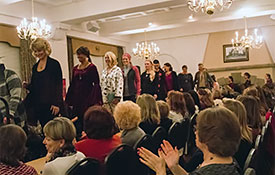 A word of thanks...
"This scholarship will help me continue my studies and hopefully obtain my goal of being a dentist. This gift will help me reach my goal."
- Brandt
"With this scholarship I will be studying psychology at MCC and hope to someday start my own practice as an adolescent clinical psychologist. "
- Kaitlyn
"Being awarded this scholarship is such a great help to me. I feel my goals are so close I can reach out with one hand and grab them. Thank you MCC Foundation!"
- Jacqueline
"The scholarship I received to MCC has meant everything. Thanks to this opportunity, I will be the first in my family to complete college."
- Alejandro
"My scholarship to MCC was a miracle. I have earned my GED and I'm well on my way to a college degree."
- Jacqueline
"My scholarship from MCC helped make it possible to change careers at 40 and pursue my lifelong interest in horticulture."
- Scott
"No one in my family has ever earned a college degree, but with my scholarship to MCC, I am on the way to being the first."
- Laura