Friends of MCC Foundation
Make a difference - join the Friends of MCC Foundation and the community in creating an extraordinary legacy of hope, learning and opportunity. Your involvement positively affects all members of our community and sets a precedent that will impact future generations for years to come.
---
Who benefits from your donations?
Amanda Cherwin
John and Marilyn Krenger Scholarship Recipient - "I would like to thank you very much for this scholarship. The scholarship has provided me with both the confidence and incentive to do great things while I attend MCC. It is greatly appeciated, and I promise that I will work hard to best student and person that I can possibly be."
Lilyanna Anbar
Education to Empowerment Scholarship Fund Recipient - "By awarding me the Education to Empowerment Scholarship, you have diminished my financial burden and have pushed me one step closer to my educational goal. Thank you again for your generous financial support towards my present and future goals."
Samantha Gorman
Forge Ahead Scholarship Recipient - "By receiving the Forge Ahead Scholarship, I have been empowered to strive to be the best in my class and graduate on the President's List. I believe now that I will be able to accomplish my goals as they progress. I know the future is not an easy one; however, I now know that I will be able to focus fully on my studies instead of financial difficulties. Thank you again for the generous award."

Following Up with MCC Promise Recipients »
Together we raised over $79,900 to support scholarship recipients. Thank you to our many sponsors, golfers and individuals who participated in contest sales, raffles and silent auctions.
Scholarship Recipient Valentine's Day Card Signing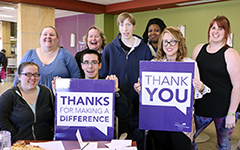 Over thirty scholarship recipients attended the Scholarship Recipient Valentine's Day Card Signing pizza party to sign a Valentine's Day card to the main donor of the scholarship they received. The event was a great opportunity for the recipients to express their gratitude and appreciation for their educational support.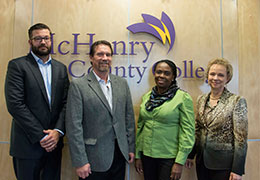 "Nursing school is intense, with this scholarship, I don't have to worry about money for school. The stress of tuition has been erased." – Carol Etienne-John
A word of thanks...
"This scholarship will help me continue my studies and hopefully obtain my goal of being a dentist. This gift will help me reach my goal."
- Brandt
"With this scholarship I will be studying psychology at MCC and hope to someday start my own practice as an adolescent clinical psychologist. "
- Kaitlyn
"Being awarded this scholarship is such a great help to me. I feel my goals are so close I can reach out with one hand and grab them. Thank you MCC Foundation!"
- Jacqueline
"The scholarship I received to MCC has meant everything. Thanks to this opportunity, I will be the first in my family to complete college."
- Alejandro
"My scholarship to MCC was a miracle. I have earned my GED and I'm well on my way to a college degree."
- Jacqueline
"My scholarship from MCC helped make it possible to change careers at 40 and pursue my lifelong interest in horticulture."
- Scott
"No one in my family has ever earned a college degree, but with my scholarship to MCC, I am on the way to being the first."
- Laura
Contact
8900 U.S. Highway 14
Crystal Lake, Illinois 60012-2761
Phone: (815) 455-8721
Fax: (815) 479-7828
Email
Please remember the Friends of MCC Foundation in your will.