Friends of MCC Foundation
Make a difference - join the Friends of MCC Foundation and the community in creating an extraordinary legacy of hope, learning and opportunity. Your involvement positively affects all members of our community and sets a precedent that will impact future generations for years to come.
---
Who benefits from your donations?
A big thank you for contributing to my future!
Scholarship Recipients
2018 Spring Graduates!
---
To date, E2E has awarded $200,000 in scholarships to 25 female MCC students!
---
Golf Invitational - June 11
Opening Day Breakfast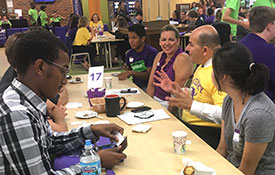 Executive Director Brian DiBona and Distinguished Alumni award recipient, Kim Keefe, talk with new MCC students at Opening Day breakfast.
Rachel Boldman, Director of Crisis Intervention and Prevention Services describes the new Titanium Software purchased using Technology Endowment Funds at the August Foundation Board Meeting.
Scholarship applications due May 4.
Forge Ahead Scholarship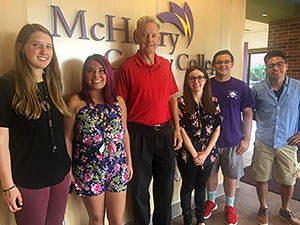 Congratulations to Amy Widhalm, Bianca Lopez, Amber Steiger, Ryan Saxon and Andy Hernandez Cardena, recipients of the Forge Ahead University Scholarship.
Hans J. Wolf Memorial Scholarship
Congratulations to Cesar Graciano, the first recipient of the Hans J. Wolf Memorial Scholarship.