Leadership Education and Development (LEAD)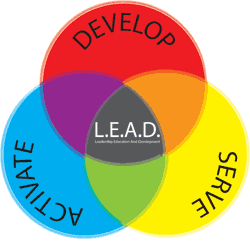 This interactive presentation will introduce the LEAD program, a series of workshops and activities which develop a student's leadership skills and abilities, as well as explore the theories and practices of leadership. Comprised of three components, students will have the option to individualize their experience from a variety of opportunities.
From the DEVELOP portion of events, Student Life will collaborate with Student Services offices to present topics from Networking and Resume Building to Effective Communication Techniques to Working on a Team.
The students will ACTIVATE what they learn as they engage in leadership roles on and off campus.
In the SERVE category, students will be able to give back by assisting in various community service efforts. This year's theme is "Take the LEAD" and will incorporate Color Theory Assessment via the Hue R U program.
LEAD is designed to introduce student leaders to concepts important to becoming an effective leader and successful professional.
The program is open to all regularly enrolled credit students. You must RSVP for each session at (815) 455-8772 or email stulife@mchenry.edu
Those who attend five or more sessions will receive a Certificate of Merit and be invited to the LEAD banquet. For more information, please call the Student Life Office at (815) 455-8772 or email stulife@mchenry.edu
Some ACTIVATE Options:
Take on a leadership position in a Student Organization
Assist with programming a campus event
Utilize your work experience and reflect on the experience
Fall 2014 LEAD session schedule


| Date | Topic | Speaker |
| --- | --- | --- |
| October 10 | Be Our Guest: Be The Best | Pat Stejskal, MCC Director of Institutional Effectiveness |
| October 17 | Professional Communications | Jim Stockwell, MCC Film and Broadcast Journalism Instructor |
| October 24 | Team Building and Building Community | Leslie Krebbs, MCC Coordinator of Service-Learning |
| October 31 | Making Small Talk – Getting Past Hello | Marianne Rowe-Dimas, Leadership Consultant |
| November 7 | Working With You Is Killing Me! | Sheri Bland, Leadership Consultant |
| November 14 | The Leadership Challenge | Talia Koronkiewicz, MCC Manager of Student Conduct and Campus Life |
| November 21 | Walk, Talk, and Act like a CEO both in Business and in Life | Brian DiBona, MCC Coordinator of the Illinois Small Business Development Center |
All Fall 2014 workshops will be held in B167-168 from 10 a.m. to noon.