Chi Upsilon Chapter of Phi Theta Kappa, International Honor Society at MCC
Students from the Chi Upsilon chapter accepted several awards at the June 2016 Illinois Regional Convention. Pictured, from left are (front) Cody Wightman and David Abramson and (back) Olivia Jensen, Ian Martin, Tony Marsalla, Paige Meyer, Andrew Hartley, Phil Bridges, Natalia Kupiec, Natalie Bruns, Colleen Fletcher, Jocelyn Zambrano, Heidi Boring, and Anne Humphrey.
Learn more about us and the interesting things we're doing by checking us out in Canvas ». (For current students only – use your myMCC login.)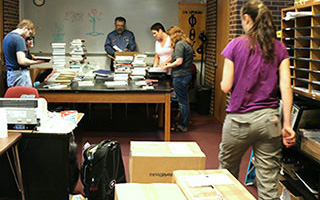 Books for Africa Packing Party. The funds raised from the Books for Africa
book drive are used for chapter scholarships.
Breaking the Stigma of Mental Illness: a New Frontier. In 2015, chapter members organized a panel discussion on the stigma of mental illness for community members. Attendees attached a leaf to the banner seen in the photo and pledged to support those suffering from mental illness.