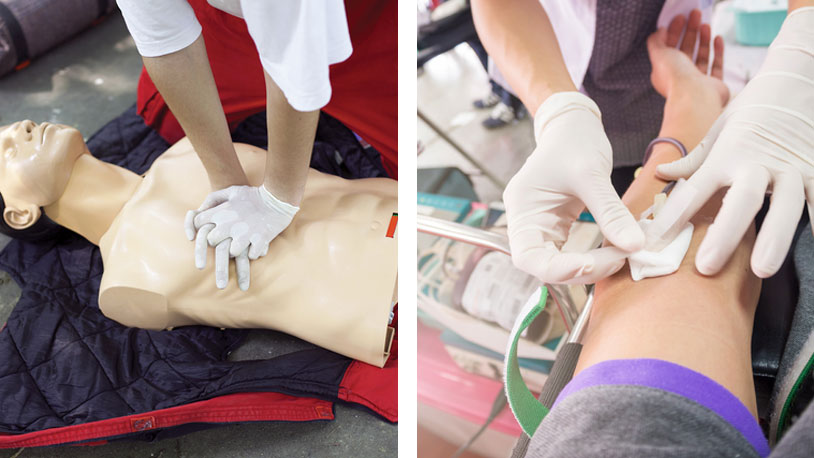 Workforce Training for Healthcare Careers
Build stackable credentials with MCC's noncredit healthcare certification programs. Receive a nationally-recognized certification through National Healthcareer Association (NHA) as an electrocardiogram technician or phlebotomist.
Each course includes the price of taking your initial certification exam through NHA on campus after successful completion of the course.
Healthcare Provider Cardiopulmonary Resuscitation (CPR)

This course meets the requirements for recognition as a basic life support rescuer for healthcare providers by the American Heart Association (AHA). It's intended for those entering, or currently working in, all healthcare settings. After successfully completing this course, you'll receive a certification in basic life support CPR and credit for 4.5 contact hours.

The cost of the book is included in the $70 course fee. Course code UHL U02

Electrocardiogram (ECG) Technician Training

Prepare to become a Certified EKG Technician (CET)! Study basic to advanced concepts in ECG (also referred to as EKG in the medical community). Learn basic cardiac anatomy and physiology, proper lead placement for 5- and 12-lead, technical aspects of an ECG machine and how to calculate heart rate, how to interpret a rhythm strip, and several advanced concepts working with the 12-lead ECG machines. You'll learn how to prep a patient for ECG monitoring and troubleshoot ECG artifact.

This course is designed for those who have completed CNA, EMT, CPR, or other medically-related coursework. This training, along with your previous certification, allows you to assist the physician diagnosing myocardial infarction, cardiac arrhythmias, and heart rhythm irregularities. ECG machines are used in physicians' offices, hospitals, clinics, and other health care facilities.

The $999 fee for this course includes all books, materials and the cost of the National Health Careers (NHA) Certified EKG Technician (CET) exam to be taken at the end of the class. Course code QHC C06

Phlebotomy Technician Training

Phlebotomists draw blood for tests, transfusions, research, or blood donations. As an NHA-Certified Phlebotomy Technician (CPT), you can work in a variety of healthcare settings and perform critical work in the healthcare field. The job outlook through 2024 shows 25% growth, much faster than average. Median pay: $32,710 per year, $15.72 per hour according to the Bureau of Labor Statistics.

MCC's certification program consists of 60 classroom and lab hours in which you'll be required to complete a minimum of 30 venipunctures and 10 capillary sticks.

The $1,999 fee for this course includes all books, materials and the cost of the National Health Careers (NHA) Phlebotomy Technician Certification (CPT) exam to be taken at the end of the class. Course code QHC C20
Or, are you looking for credit certificates and AAS degrees like:
---
Registering for the First Time?
The first time you register online, see www.mchenry.edu/myMCC and select: Register for Workforce and Community Development Classes »
To search for a class, enter search criteria such as a keyword (ex. painting) or the course code number. Or, try selecting a Topic Code using the arrow for the drop-down menu.
Select a class for registration and select Submit.
Complete the required personal identification information and payment information, then select Submit.
You'll receive an email containing information about using your own "myMCC" account to register for classes on online within two business days.
For more information, contact Justin DeBolt at (815) 479-7879