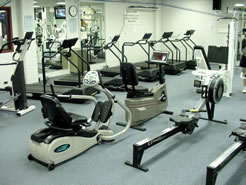 The MCC Fitness Center offers friendly staff, relaxed atmosphere and comprehensive personalized fitness instruction.
Grand Reopening on July 25
from 7 a.m. to 3 p.m.
Please Join Us:
Healthy Snacks
Drawings for free memberships
Cool prizes when you complete mini workouts or fitness tests
---
Open 6 a.m. to 5 p.m. Monday through Friday
June and July: 6 a.m. to 5 p.m. Monday through Thursday
The Center will be closed for remodeling: May 11 - June 18
Alternate Location: B168/169 Monday - Friday 6 a.m. to 11 a.m.

For general questions, or to schedule a personal fitness evaluation call (815) 455-8551.
BIG WHEEL CLUB
---
Important: Read the "Before You Begin" section before signing up for a membership