Joel Chapman, MS, CSCS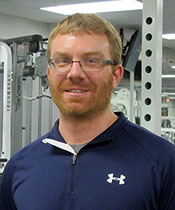 Coordinator of Fitness Center
Education
BS Biology, St. Norbert College, 1997
MS Exercise Physiology, University of Wisconsin, 2001
Certification
Certified Strength and Conditioning Specialist (CSCS)
CPR, First Aid, AED
Position
Oversee daily operations of the Fitness Center. Perform fitness evaluations, individual exercise program consultations, supervise incentive program, and supervise fitness center floor. Also instructor for HFE120, Physical Fitness.
Professional Membership
National Strength and Conditioning Association
Previous Experience
Fitness/Wellness Specialist at MCC 2001-2009
Exercise Specialist and Fitness Instructor (2000-2001) at UW Sports Medicine Fitness Center in Madison, WI.
What I enjoy about MCC
I enjoy the people (clients, students, co-workers) at MCC. I also am happy to be able to use my education and skills to perform my job functions.