Campus Art Gallery Information
---
MCC Student Art Exhibit 2014 Award Winners
First Place: Corey McCullar, Harvest Gold, Oil on canvas
Second Place: Molly Tait, Untitled, Stoneware
Third Place: Heather Troglia, Untitled 1, Photography
Merit Awards:
Ian Dalton, Angles, Wood and metal; Andy Lechner, Warm Wine, Stoneware; Shelby Page, Next Thursday, Stoneware; Ben Rohrer, My Obscured Perception of Sex and How it Works, Wood and metal
Purchase Awards:
Teagan Kaden, Wish You Were Here, Digital Photography; Marnie Knouse, Incornadine, Oil on canvas; Dallas LaCassa, Lipbomb, Stoneware, copper leaf; Jeremy Montoto, Home and Untitled, Archival Pigment Print
Executive Dean's Choice Purchase Award:
Teresa Hagen, Float, Oil on canvas
Ryan Long Memorial Award:
Brandon Marks and Shelby Page
---
2014 Skyway Juried Art Competition
Best of Show
Molly Tait, Untitled, McHenry County College
Awards of Excellence
Giovanni Gonzalez, Geo, College of Lake County
Charlie Knifong, You, Elgin Community College
Shelby Page, Untitled, McHenry County College
Andrew Zirk, On Yahweh Blues, (Chorus I, Chorus II), Elgin Community College
Awards of Merit
Faryal Choudry, Gluttony, Morton College
Susan Hacker, Sleeping Beauty, College of Lake County
Tania Romero, Mexico, Morton College
Judith Sweetwood, Untitled II, College of Lake County
MCC Students selected for the 2014 Skyway Art Exhibit
Natalie Jedynak, Warrior, Archival Pigment Print
Dallas LaCassa, Goldbaum, Stoneware, gold leaf
Shelby Page, Untitled, Ceramics (Porcelain)
Mariela Ryan, Sisters, Archival Pigment Print
Joanna Sit, Jomana, Oil on canvas
Molly Tait, Untitled, Stoneware
Dennis Taylor, It's None of Your Bismuth, Oil on canvas
---
Illinois Skyway Collegiate Conference Colleges: College of Lake County, Elgin Community College, McHenry County College, Moraine Valley Community College, Morton College, Oakton Community College, Prairie State College, Waubonsee Community College.
MCC Gallery Details
McHenry County College has four galleries on campus with an average of thirty exhibitions per year: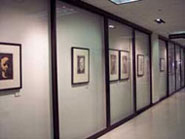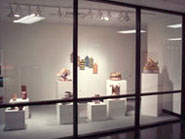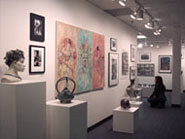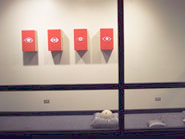 Gallery exhibitions include works from emerging and established artists from local, regional and national locales. The galleries feature diverse solo and group exhibitions with the intent of exposing students and the community to the wide range of media, styles, and content utilized in contemporary art practice.
Visiting artists often present lectures and workshops in conjunction with exhibitions. The galleries are also used for exhibits of student work and specific course-related installations and projects. Please check the gallery exhibit schedule for updates. All galleries are free and open to the public.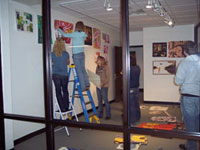 In addition to rotating gallery exhibitions, there are numerous selections of permanent and loaned works displayed on campus.
The Permanent Art Collection is displayed throughout the main campus and off-site locations.
The Portrait in Print Collection is on permanent exhibition in the MCC library.
Large-scale sculpture is located in several sites on the MCC campus.