Campus Art Gallery Information
Attention MCC Art Students!
2017 SKYWAY JURIED ART COMPETITION and VOICES Info
It will be time soon to submit your artwork to the 2017 Skyway Juried Art Competition. The annual competition will be hosted this year by Prairie State College. The exhibit dates TBD (March-April 2017).
The first step is to submit 1-3 entries for the MCC selection. Each college in the Skyway conference initially selects 25 pieces for submission to the competition. MCC selects the 25 entries before the end of the FALL semester. Those entries are photographed and judged in PowerPoint format. Independent jurors select the works in February for the exhibit at Prairie State College. 
Fill out the Skyway Entry Form » also available in the Art Office. For each piece submitted and bring entries and Entry Form (color copy (YELLOW) attached to artwork – white sheet turned in at front desk). SEE DIRECTIONS ON FORM – upper right corner.
Works submitted for the initial MCC selection do not have to be matted and/or framed, but 2D pieces (Ex.; photography, drawings) do need to be at least temporarily / non-permanently attached to a rigid backing and covered with a cover sheet for the MCC judging selection.  If the work is selected for the Skyway exhibit, the guidelines for exhibition will have to be followed.
Download Student Guidelines for Submissions »
Bring entries for the SKYWAY ART COMPETITION to the front desk in the Art Office (A-144) on the dates/times listed below.  Entries for VOICES can be submitted at the same time(s).
Monday, December 5, 10 a.m. to 3 p.m.
Tuesday, December 6, 10 a.m. to 3 p.m.
Wednesday, December 7, 10 a.m. to 3 p.m.
Thursday, December 8, 10 a.m. to 3 p.m.
---
McHenry County College has four galleries on campus with an average of thirty exhibitions per year: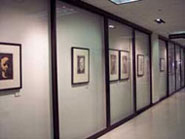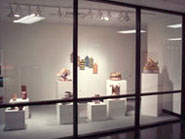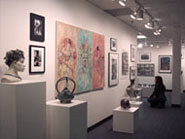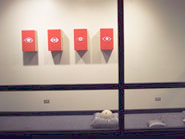 Gallery exhibitions include works from emerging and established artists from local, regional and national locales. The galleries feature diverse solo and group exhibitions with the intent of exposing students and the community to the wide range of media, styles, and content utilized in contemporary art practice.
Visiting artists often present lectures and workshops in conjunction with exhibitions. The galleries are also used for exhibits of student work and specific course-related installations and projects. Please check the gallery exhibit schedule for updates. All galleries are free and open to the public.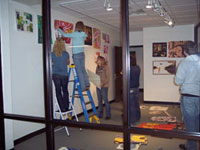 In addition to rotating gallery exhibitions, there are numerous selections of permanent and loaned works displayed on campus.
The Permanent Art Collection is displayed throughout the main campus and off-site locations.
The Portrait in Print Collection is on permanent exhibition in the MCC library.
Large-scale sculpture is located in several sites on the MCC campus.