Campus Art Gallery Information
The Satellite Gallery, a brand new art exhibition space opening in the Old Courthouse, will feature artwork from McHenry County College (MCC) art students in the inaugural group show, Begat.
MCC Student Art Exhibit 2016 Award Winners
First Place: Karla Godinez, Crevices, Collage
Second Place: Marissa Flores, Window, Archival Pigment Print
Third Place: Emily Kostelny, Yokai, Stoneware
Merit Awards:
Deanne Ferguson, Untitled; Katelyn Rowlett, Stronger Together; Katie Sualt, So I Says to Mabel, I Says; Donna Zaidenberg, Jelly
Purchase Awards:
Zac Brooks, Dyno-Sores; Sylar Buetow, Kim #3; Jamie Cabanas, Sit Bones; Madeline Cox, Olivia; Marissa Flores, Window; Tia Ganter, Mother and Son; Omar Juarez, Laundry; Jonna Kivisto, Holy Bowlers; Katelyn Rowlett, Stronger Together; Katie Sault, Who the F… is Ted?; Leila Valencia, Fertilizing Trash Dogu; Patricia Vollkommer, I'm not Sharing
President's Choice Award
Jamie Cabanas, Sit Bones
Executive Dean's Choice Award:
Omar Juarez, Laundry
Ryan Long Memorial Award:
Paige Bauske and Tia Ganter
---
McHenry County College has four galleries on campus with an average of thirty exhibitions per year: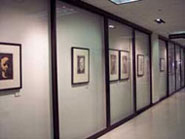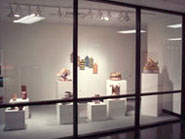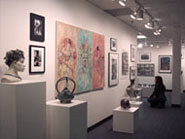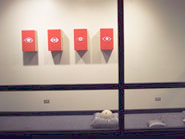 Gallery exhibitions include works from emerging and established artists from local, regional and national locales. The galleries feature diverse solo and group exhibitions with the intent of exposing students and the community to the wide range of media, styles, and content utilized in contemporary art practice.
Visiting artists often present lectures and workshops in conjunction with exhibitions. The galleries are also used for exhibits of student work and specific course-related installations and projects. Please check the gallery exhibit schedule for updates. All galleries are free and open to the public.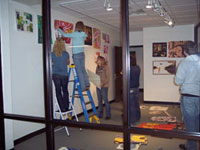 In addition to rotating gallery exhibitions, there are numerous selections of permanent and loaned works displayed on campus.
The Permanent Art Collection is displayed throughout the main campus and off-site locations.
The Portrait in Print Collection is on permanent exhibition in the MCC library.
Large-scale sculpture is located in several sites on the MCC campus.