Campus Art Gallery Information
Entry dates for submissions begins on April 11 for the 2016 MCC Student Art Exhibit
April 29 to July 29, 2016
Reception and awards presentation:
Wednesday, May 4 at 6 p.m. MCC Library - See prospectus
Downloand and complete forms
Complete entry card before submitting artwork
Deliver entries to A-144
ENTRIES: Students may enter 1-2 pieces. A separate ENTRY CARD is required for each piece.
ENTRIES accepted on:
Monday, April 11, 10 a.m. to 3 p.m.
Tuesday, April 12, 10 a.m. to 3 p.m.
Wednesday, April 13, 10 a.m. to 3 p.m.
Thursday, April 14, 10 a.m. to 3 p.m.
NOTE: Work not received during the specified times will not be accepted. Please make arrangements with your instructors if you cannot bring your entries at the specified times.
Questions? Contact Sandra Lang, Gallery Curator, at (815) 455-8785 or at slang@mchenry.edu.
---
The annual Skyway Conference Art Competition will be hosted by Elgin Community College this year. The exhibit dates are March 6 through April 4, 2016. The reception will be held on Sunday, March 6, from 1 to 3 p.m. at ECC.
Illinois Skyway Collegiate Conference Colleges: College of Lake County, Elgin Community College, McHenry County College, Moraine Valley Community College, Morton College, Oakton Community College, Prairie State College, Waubonsee Community College.
The purpose of this exhibition is to showcase some of the finest works of visual art by McHenry County College students. Awards will be given to those works demonstrating exceptional merit, as selected by the jurors.
---
McHenry County College has four galleries on campus with an average of thirty exhibitions per year: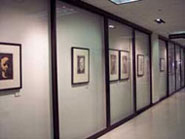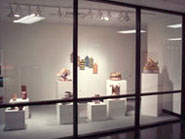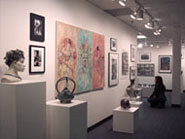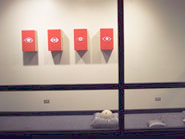 Gallery exhibitions include works from emerging and established artists from local, regional and national locales. The galleries feature diverse solo and group exhibitions with the intent of exposing students and the community to the wide range of media, styles, and content utilized in contemporary art practice.
Visiting artists often present lectures and workshops in conjunction with exhibitions. The galleries are also used for exhibits of student work and specific course-related installations and projects. Please check the gallery exhibit schedule for updates. All galleries are free and open to the public.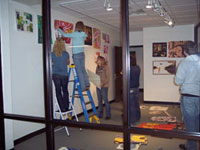 In addition to rotating gallery exhibitions, there are numerous selections of permanent and loaned works displayed on campus.
The Permanent Art Collection is displayed throughout the main campus and off-site locations.
The Portrait in Print Collection is on permanent exhibition in the MCC library.
Large-scale sculpture is located in several sites on the MCC campus.