Testing Center
You are required to provide a current photo I.D. and comply with the testing center regulations when using the testing center.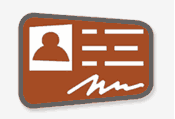 ALL exams REQUIRE a current PHOTO I.D.
Choose an exam for specific instructions:
CLEP
College-Level Examination Program (CLEP) testing offers the opportunity to earn college credit for information you already know. Visit http://clep.collegeboard.org for more information.
Create an account at https://clepportal.collegeboard.org/myaccount

Fill out demographic information, choose a testing location, a score recipient institution, and purchase study materials.
Register and pay the $80 fee for your CLEP exam at this site. Note, this does not reserve your appointment date or time.
Once you have paid the $80 fee, print your registration ticket and bring it to the Testing Center in A245 the day of the appointment along with two forms of photo identification (see detailed identification requirements).

Schedule Your Appointment

Pay the $15 non-refundable fee to MCC in Registration A258 prior to scheduling an appointment for your exam.
The enrollment processor will give you a white receipt, which you must bring to the Testing Center to schedule your appointment.
If you miss your scheduled appointment, you forfeit your $15. In order to reschedule your appointment, you must pay the $15 non-refundable fee again.
You may cancel your CLEP appointment at least 24 hours in advance without forfeiting your money.
For more information about CLEP and the benefits available to veterans, visit http://clep.collegeboard.org/military/veterans or contact CLEP at 1-800-257-9558.
CNA
Certified Nursing Assistant (CNA) testing is done to certify Basic Nursing Assistant Students.
MCC students who are CNA candidates register for exams in their class through Southern Illinois University, Carbondale, IL.
All CNA scheduling is done through SIU. Exams are administered once monthly.
For more information on the CNA testing or program
Correspondence and Online Exams
Correspondence and Online Exams are proctored exams for other institutions.
Students wishing to have a Correspondence or Online Exam from another school proctored in the Testing Center at MCC must submit an email to: testingcenter@mchenry.edu.
The subject line of the email should read: Correspondence testing inquiry or Online testing inquiry depending on your need..
The Testing Center will email the parameters and protocols for arranging these exams.
Please note that an appointment is necessary to take one of these exams and there is a fee depending on the exam criteria.
The Testing Center will not accept faxed or e-mailed exams, and the protocols must be met before the exams can be administered.
GED
The General Educational Development (GED) Tests can give you the opportunity to earn a high school equivalency certificate, by taking four subject exams and the US and Illinois Constitution.
To register for and schedule GED 2014 Series computer-based tests:
Go to www.GEDtestingservice.com and follow the appropriate links to create an account, sign up for and pay for your test(s). Enter your zip code to find the most convenient testing site.
On the Day of Your GED Test
Be early. You will not be able to test if you arrive late, and you'll need to pay the testing fee again.
Bring a signed government photo I.D. such as a driver's license or a State I.D. No one will be allowed to test without proper identification.
If you have selected McHenry County College as your GED Testing Site, report to the Testing Center in A245.
Makeup Exams
Makeup exams are exams given when a student has missed a test in class, or is a documented Special Needs Student.
Makeup exams are given by permission of the instructor.
Makeup exams do not require an appointment, however there is a $5 fee required for these exams.
Makeup exam fees are payable at Registration, A258.
You must know your instructor's name and provide a current photo ID to take a makeup exam.
Your instructor provides a last date to test on each exam. If that date has passed, your instructor must grant permission for you to take the exam.
It is the student's responsibility to arrange to take an exam in the Testing Center, find out the minimum time required, and the last day the exam will be given.
The Testing Center staff must abide by the instructor's directive regarding the time required to complete the exam. Therefore, if the amount of time remaining before closing time is less than the time required to complete the exam, we will not administer the exam. You must contact the instructor to obtain the minimum time requirement for each exam.
Placements
Placement exams are given to determine the best placement for students enrolling in classes.
New students taking placement exams are required to turn in an Application for Admissions, pay the $15 fee, and allow 2 business days before testing.
Initial placement exams are free; all subsequent placement exams will cost $5 each.
No appointment is needed.
You will need to provide a photo I.D. before you begin your exam.
If you do not know which tests you should take, please consult with an advisor.
Placement practice exams
Math placement study guides are available at: www.mchenry.edu/orientation or in the MCC Book Store, B162.
You need to allow at least the following amounts of time before the Testing Center closes in order to complete these placement exams:
2 hours for the English exam (includes an essay and a reading exam)
1 1/2 hours for the math exam*
1 1/2 hours for the reading exam only
Placement exams do not have a maximum time limit.
The math and English placement exams are computer-based. We will provide a calculator (scientific TI-30Xa, or graphing TI-83) and scratch paper for your math placement exam. English placement includes writing an essay and reading portions.
Placement scores are normally available immediately, but there are some instances when they must be sent off to be scored. Please plan in advance, and allow plenty of time for your results.
Placement testing is not required if you received the following ACT scores:
21 or higher in English (valid for 5 years from test date).
22 or higher in math (valid for 2 years from test date) effective Spring 2013.
Foreign placements are available in French, German, and Spanish. These exams are not offered on a computer. Foreign Language Placements may be taken only one time.
*Once a student has begun a math class, they no longer qualify to take the Math Placement.
Proficiencies
Proficiency Exams give students a way to demonstrate knowledge of the information taught in a class, by passing an exam similar to a final.
Proficiencies are offered for Math**, Business**, and several CIS levels.
All proficiencies require appointments.
Pay the $25 fee and pick up your three-part form in Registration, A258.
Turn that form in to the Testing Center at the time of your exam.
Allow three hours for all proficiencies.
Please call the Testing Center at (815) 455-8984 for an appointment time.
**Math and Business Proficiencies are done by permission of the respective departments only; signatures must be obtained from authorized department staff/faculty.
Self-Paced Online Course Exams
Students enrolled in most Self-Paced Online Course (SPOC) classes will take their exams in the Testing Center.
SPOC exams do not require an appointment and there is no fee.
Bring a copy of your current schedule or know your student identification number in order to take your SPOC exams in the Testing Center.
Check your syllabus for testing deadlines and parameters, some SPOC exams do have a minimum time that must be allowed before closing.