Leadership Education and Development (L.E.A.D.)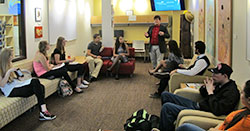 Do you believe leaders are born or made?
Do you feel that strong leadership skills will help you get ahead?
Participating in MCC's Leadership Education and Development (L.E.A.D.) program is the perfect opportunity for you to discover or strengthen your inner leader.
L.E.A.D. is a series of workshops and activities to develop your leadership skills and abilities and explore the theories and practices of leadership. Experienced leadership and communication professionals help you examine what makes an effective leader and a successful professional. L.E.A.D. provides opportunities for you to practice what you learn as you participate in leadership roles on- and off-campus.
Workshops topics include community building, conflict resolution, making small talk, service excellence, personal branding, professional communications, leadership inventories, and more.
The program is open to all regularly enrolled credit students. You can RSVP for each session at (815) 455-8550, email stulife@mchenry.edu or sign up in Student Life, A252.
Attend five or more sessions to receive a Certificate of Merit and be invited to the L.E.A.D. banquet. For more information, please call the Student Life Office at (815) 455-8550 or email stulife@mchenry.edu
L.E.A.D. sessions will be on Wednesday afternoons from 2:30 to 4 p.m. starting October 7.
2015 L.E.A.D. session schedule


| Date | Topic | Speaker |
| --- | --- | --- |
| October 7 | Lead, Follow or Get Out of the Way | Dr. Flecia Thomas, Dean of Student Development |
| October 14 | PEACE on the Team | Kate Murauskas Halma, Motivate with Kate Wellness Coach |
| October 21 | Be Our Guest- Be the Best | Pat Stejskal, Director of Institutional Effectiveness |
| October 28 | Time Management (Held in B168/169) | Betty Hartwig |
| November 4 | Leadership and How to Have a Rewarding Career in the Public Sector | Doug Martin, Director of Economic Development: City of McHenry |
| November 11 | Assertiveness | Betty Hartwig |
| November 18 | Professional Communications | Jim Stockwell, MCC Film and Broadcast Journalism Instructor |
All sessions will be held in the Scot Room from 2:30 to 4 p.m.