Leadership Education and Development (L.E.A.D.)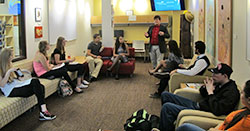 Do you believe leaders are born or made?
Do you feel that strong leadership skills will help you get ahead?
Participating in MCC's Leadership Education and Development (L.E.A.D.) program is the perfect opportunity for you to discover or strengthen your inner leader.
L.E.A.D. is a series of workshops and activities to develop your leadership skills and abilities and explore the theories and practices of leadership. Experienced leadership and communication professionals help you examine what makes an effective leader and a successful professional. L.E.A.D. provides opportunities for you to practice what you learn as you participate in leadership roles on- and off-campus.
Workshops topics include community building, conflict resolution, making small talk, service excellence, personal branding, professional communications, leadership inventories, and more.
The program is open to all regularly enrolled credit students. You must RSVP for each session at (815) 455-8550, email stulife@mchenry.edu or sign up in Student Life, A252.
Attend five or more sessions to receive a Certificate of Merit and be invited to the L.E.A.D. banquet. For more information, please call the Student Life Office at (815) 455-8550 or email stulife@mchenry.edu
2015 L.E.A.D. session schedule


| Date | Topic | Speaker |
| --- | --- | --- |
| February 20 | Student Success and Leadership | Adriane Hutchinson, Dean of Academic Development |
| February 27 | Organizing Your Life | Jim Stockwell, MCC Film and Broadcast Journalism Instructor |
| March 6 | Looking Inwards: How Self-Reflection Strengthens Leaders | Megan Scanlan, Coordinator of Student Activities |
| March 13 | Budgeting 101 | Sherry Ridge, Adjunct Faculty- Education, Career and Technical Education |
| March 20 | The Mindful Leader | Chris George, Coordinator of Student Leadership and Civic Engagement at Harper College |
| April 3 | Professionalism in the Workplace | Kathy Hayhurst, Professional Development Assistant |
| April 10 | Sustainability Leadership Skills | Leslie Krebbs, MCC Coordinator of Service-Learning and Kimberly Hankins, Director of Sustainability |
| April 17 | To be determined | Brian DiBona, MCC Coordinator of the Illinois Small Business Development Center |
All sessions will be held in A221 from 10 a.m. to noon.